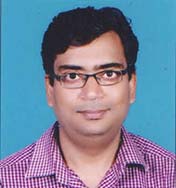 Designation:
Head of Department of Musculoskeletal Physiotherapy of College.
Qualification:
Qualified as Professor with Master of Physiotherapy in Musculoskeletal Physiotherapy. Presently approved by MUHS as Associate Professor. He is also head of this Department.
Experience : 12 years
Approved Post graduate guide, examiner and paper setter for MUHS.
Area of expertise is Sports physiotherapy, He is clinical head of Musculoskeletal outpatient department of CMF college of Physiotherapy. He is also co-coordinator for postgraduate teaching and clinical departments. He has 3 research paper publications to his credit.